Custom Packaging & Extras
Cellophane Bags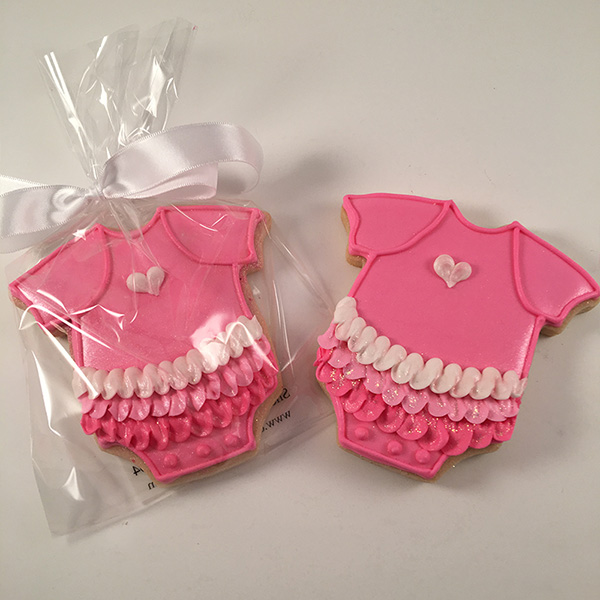 Individually wrapped cookies range from 2"-5". A cellophane bag with a quality satin ribbon tie to match your color scheme offers a special touch. The cookies can also be packaged in a simple cellophane bag and heat sealed to keep fresh until ready to serve.
The price for our custom cellophane package is $6 per dozen.
---
Gift Boxes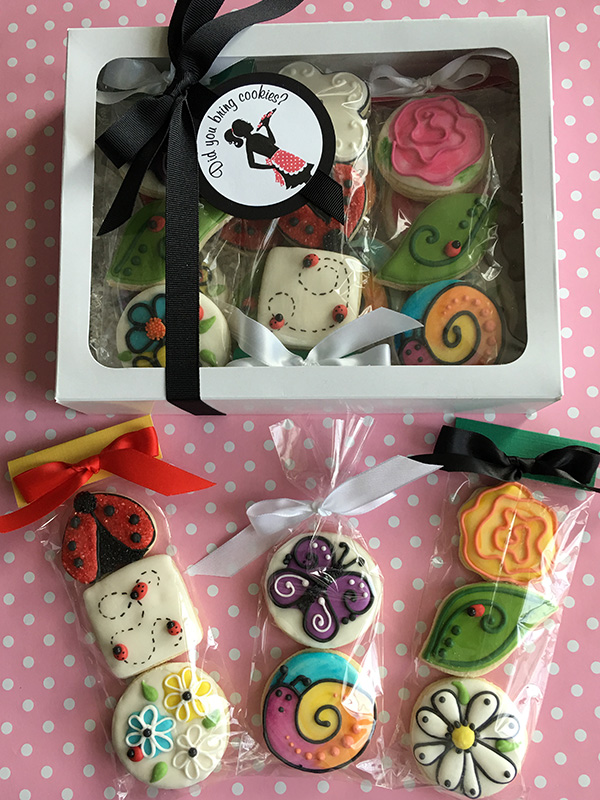 Choose an assortment of your favorite cookie designs as a treat for yourself or to give as a token of thanks.
These gift boxes have a clear cellophane window so the cookies can be easily viewed and come with a ribbon tie to match your color or theme. Each box contains approximately 18 small cookies or 10-12 medium cookies. Price starts at $25 for small and $30 for medium.
Pricing is dependent upon the detail of cookies you choose.
Pricing for a cellophane tube of 3 small size cookies is the same as for our individually packaged single cookies tied with quality satin ribbon. The price is $6 per dozen packages.
---
Gift Baskets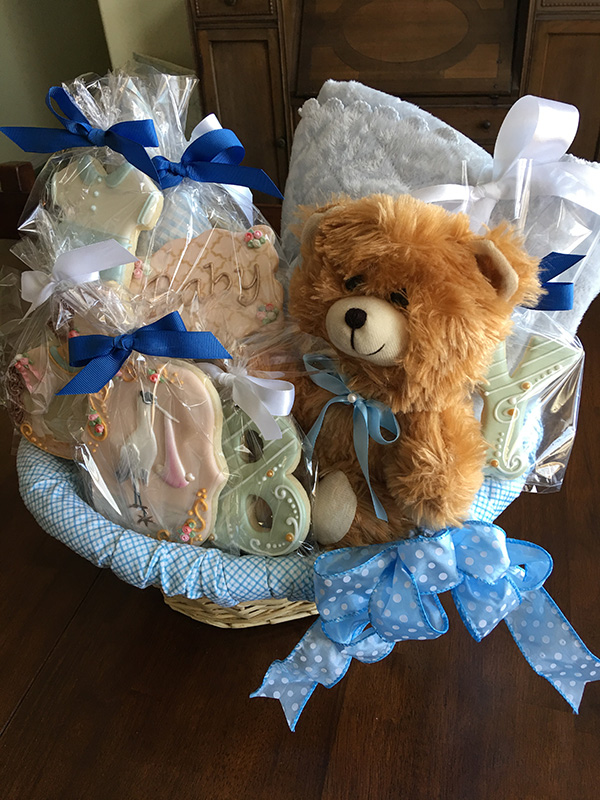 Gift baskets offer a variety of options to make your cookie selection unique and customized for any occasion. Fill a basket with individually wrapped cookies or personalize it by adding your own choice of gift items. We can put it all together for you.
Each basket contains 1-2 dozen hand decorated individually wrapped sugar cookies. Your finished basket will be dressed in cellophane wrap with large decorative bow to match.
Prices start at $70.
---
Cookie Trays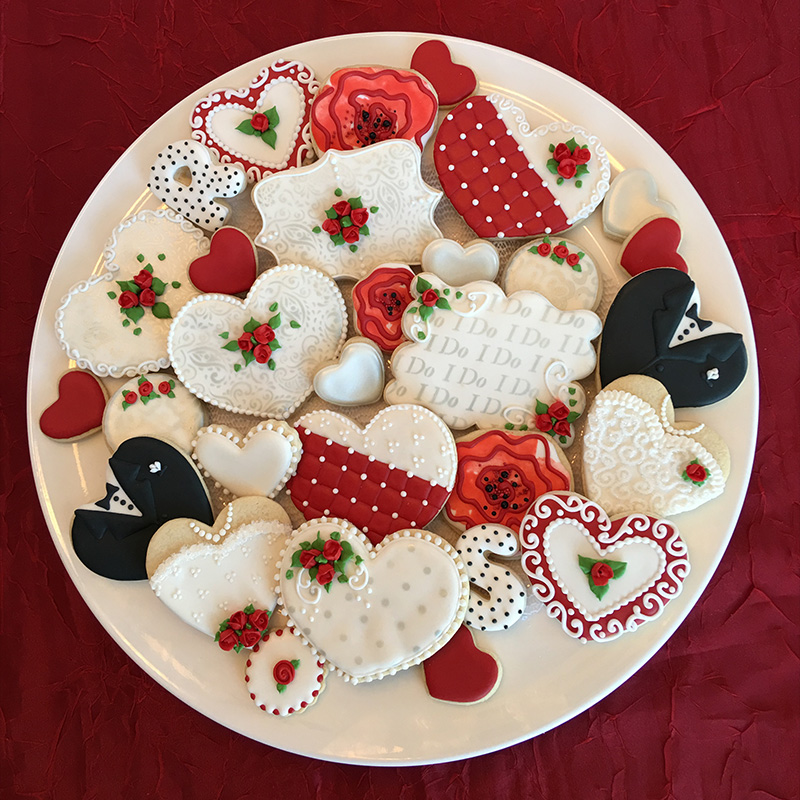 Cookie trays are a popular choice for that "something special" to be enjoyed by party guests. Trays can consist of 1-4 dozen cookies in assorted designs within your chosen theme or all in one favorite design.
Smaller trays are a great way to say Thank You, Get Well, or I love you.
Prices range from $52 for 1 dozen cookies up to $188 for 4 dozen cookies. Trays will be dressed in cellophane wrap with large decorative bow to match.
---
Cookies in a Jar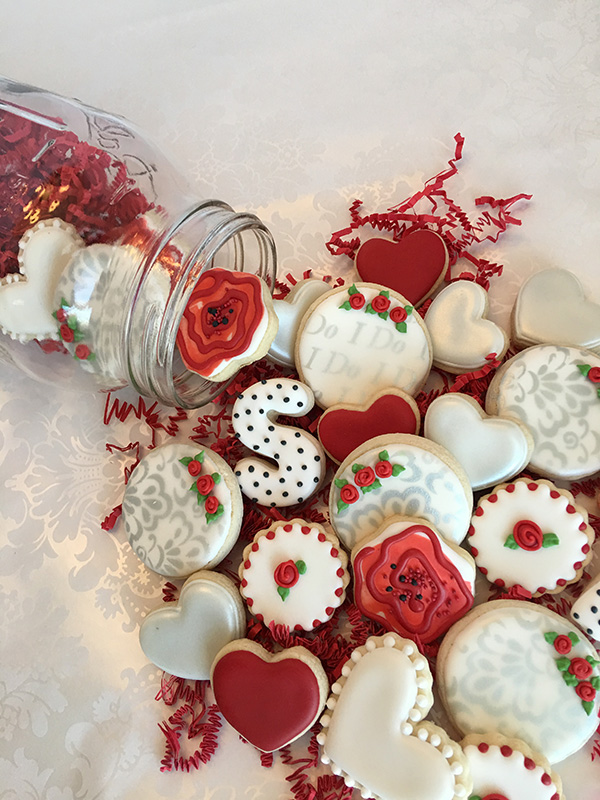 Cookies in a jar is a unique way to present a gift to someone special. Say "Happy Birthday", "Thank You", "Welcome Baby", or "Just Because" to mention a few. The cookies range from 1½"- 2" and can include up to four different designs. The number of cookies varies with the size and designs chosen. Our half gallon jar holds an average of 24 small size cookies individually sealed in a cellophane pouch to maintain freshness for up to 3-4 weeks.
Price starts at $46
---
Clear Favor Boxes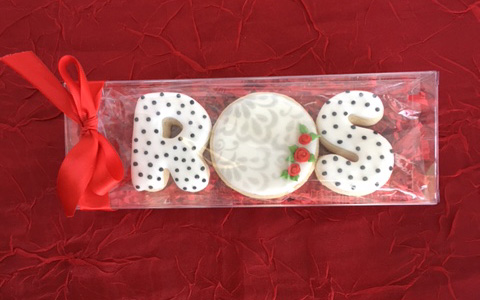 This box is an ideal way to package three or four smaller cookies as favors for baby showers, birthdays, weddings, or a special gift to say Thank You.
Price is $6 each including cookies.